Attraction Force
A downloadable Clear 'em up for Windows
Your space station has been overtaken by robots. That's bad.

You have a magnetic pulse gun that can stun them. That's good!
The gun can only pull enemies. That's bad.
But it's all you have, so you'd better make do!
Attraction Force is a classic arcade-style experience where you have to attract, dodge and destroy all enemies in a level before you move on to the next one. Pull enemies with your magnet gun to stun them, but don't let them touch you!

Features

Classic arcade action
50 stages
An oldschool high score table
Controller support
Remappable controls
If you're in the mood for more plattforming but with a puzzle-twist, check out my game [Speer]! And you can follow me on Twitter to get more updates.

Purchase
In order to download this Clear 'em up you must purchase it at or above the minimum price of $1.99 USD. You will get access to the following files:
attraction-force-windows-release.zip
20 MB
Comments
Log in with itch.io to leave a comment.
Very cute game, definitely feels like a love letter to old NES arcade games.

Really well done Bubble Bobble inspired game. It's a bit less frantic than I'd like. I feel like more enemy types could be introduced earlier. I wish there was a way to skip the long time between levels and a little bit more time to collect a one-up after having killed all enemies.
Overall the retro vibe is well executed, just a bit too slow-paced for my taste.
Fun and challenging game that invites the player to perform combo attacks to score maximum points and complete the levels.
Even though some of the levels looks easy, performing the combos and keeping the lives till the end is hard. Best score 44300.
This was really cute! The robots are fun to line up for combos, and I like that this is an optional scoring mechanic and not fully necessary to progress. Final score: 57300, played on Windows 10 64-bit with keyboard.

My main issue with the game relates to object spawning: Power-ups can spawn on top of you and instantly take effect, and when the player dies and respawns, their semi-transparent sprite can blend in with any robots that happen to be passing by that spawnpoint.

Whoa, nice score! Thank you very much for the kind words and the feedback, I'll look into it!
Edit: I've just released a patch today that changes how powerups are spawned. Thank you for helping me make a better game!
Score: 3800, Best Combo: 2
Hm, I find it very, very hard to define, but somehow, this game didn't really work out for me. I think combos are maybe a bit too hard to get (so they'd be fun), and the puzzle elements for beating enemies are way too irrelevant. Maybe environmental kills should be rewarded more.
I think I'm having overall a hard time with the pace and the low input stimulation the game gives. So maybe it's just me after all! :-)
I can see the overall implementation is quite polished on the technical level.
Hope this feedback helps... at least a little bit :-)
Thank you for playing the alpha and giving feedback, I really appreciate it!
I'm already working on making the combos a bit easier and more fun to pull off. I'll be adding the ability to charge your shots, which will pull enemies with more force. This should give players more control over the playfield and reduce the amount of time spent walking from enemy to enemy. Do you think that might make the game more fun for you?
I will also add more audio-visual polish to the game so that everything is a bit juicier and more impactful. As for the environmental kills: They're still a bit experimental so I'll think about ways to make them more relevant or fun to use. Thank you for the suggestion!

Completed playing the alpha build. Very good use of the unique game mechanic. Had to control myself from not shooting the enemies more than once. I would be great if I can configure Z to Jump and X to shoot. Looking forward to the completed game. Wishing you all the best for a great game like Speer.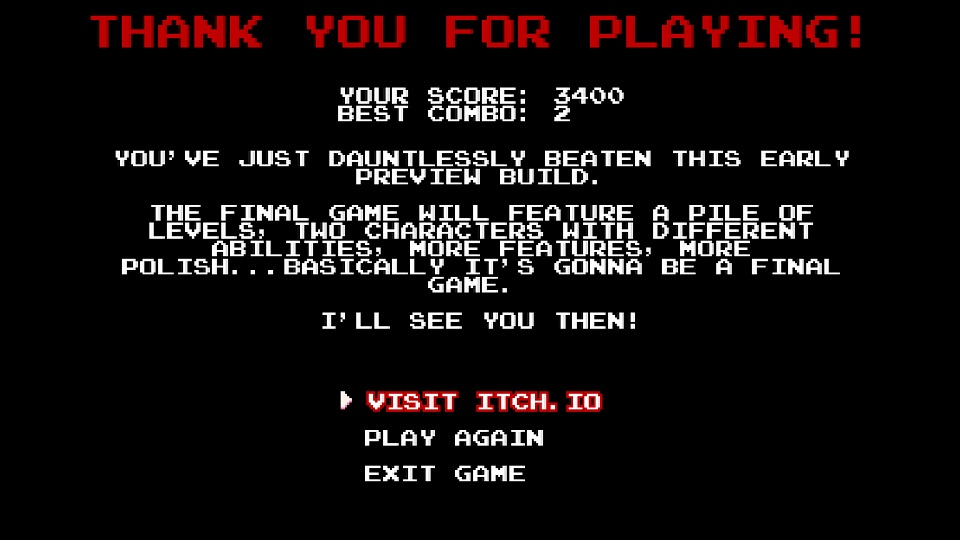 Thank you very much! You will be able to configure the controls in the final game.
I'm curious: Why didn't you want to shoot the enemies multiple times? One shot is enough to stun, but if you keep shooting you can move them around the stage and into hazards, or even your own foot.

I am used to Z jump and X shoot so I was not able to shoot and jump easily to avoid the robots when I shoot and attract them with multiple bullets. In the first 4 or 5 times I played the game I did not cross the level 4. If I had to complete all the levels I had to play safe by shooting just one bullet and then running over the enemies after they are stunned.